Contact
T.F.A. alfa s.r.o
Procházkova 430
517 41 Kostelec nad Orlicí
Czech republic
tel: +420 494 323 575
fax: +420 494 323 386

email: tfa@tfa.cz
www.tfa.cz


EVROPSKÁ UNIE
EVROPSKÝ FOND PRO REGIONÁLNÍ ROZVOJ
INVESTICE DO VAŠÍ BUDOUCNOSTI
Information about SHARK FD grinder
This, in czech company self designed machine offering solution, which completly proceed from needs of end user – SKI service.
Structural solution accepting maximum requirements of quality for serviced skis and snowboards.
Configuration of machine is aware of high expenses needed for working place in lucrative locations, where ski service is to be offered.
Combination of each service operation accept end customer needs.
Fulfil his needs for all required services on one machine.
Even accept specific level of customers equipment and offering alternatives.
Company offer sale in cooperation with CSOB Leasing a.s. in form of leasing ( there is posibility of another leasing company).
Company offers other equipment and supplement devices for SKI services, machines of our construction are not a requirement.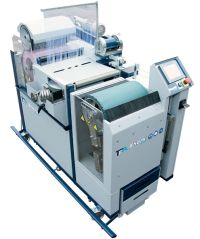 T.F.A. alfa s.r.o. is direct manufacturer and seller and that offers:
interesting price which mean fast return on investment
qualified and fast warranty and after warranty service
easy maintenance
easy to use
very interesting prices of spare parts without other participants marking up the prices
small build-up area w80xl140xh120 cm
your remarks will be accepted for futher development
Basic Version
grinding of the bottom of a skis and snowboards on grinding belt 350 mm wide with hand or driven feed
grinding of the bottom of a skis and snowboards on grinding stone 200 mm wide with hand or driven feed
grinding of side edges in 85 - 90° with hand-feed
optional or program directed pattern making on the bottom of a ski
Machine Advantages
complete ski and snowboard service on one machine
small build-up area w80xl140xh120 cm
easy maintenance
easy to use
economic operation
easy spare parts availability
fast return on investment
leasing possibility
Technical parameters
Grinding belt 350mm wide P80, P100, P120, variable speed 250 – 1500 rounds/ min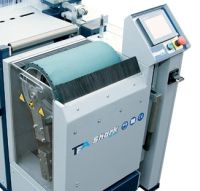 Grinding stone 200mm wide, 300mm diameter, variable speed 250 – 1500 rounds/min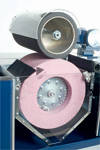 Belt 30mm wide, grinding of the side edges 85 - 90°, P80, P100, P120, variable speed 1400, 2800 rounds/min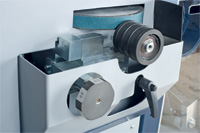 variable speed of ski and snowboard feeding 5 – 25 m/min
adjustable thrust of arm for ski and snowboard feed
variable speed of dressing diamond 3 – 25 mm/s
making of linear or combined patterns on the bottom of a ski