Waxpo FD 0909
Contact
T.F.A. alfa s.r.o
Procházkova 430
517 41 Kostelec nad Orlicí
Czech republic
tel: +420 494 323 575
fax: +420 494 323 386

email: tfa@tfa.cz
www.tfa.cz


EVROPSKÁ UNIE
EVROPSKÝ FOND PRO REGIONÁLNÍ ROZVOJ
INVESTICE DO VAŠÍ BUDOUCNOSTI
Information about Waxpo FD 0909 machine
The machine, built in a Czech company according to our own design, offers solutions which are inspired by the needs of its end user - i.e. the SKI service.
Its design meets all requirements necessary for a well-serviced ski or snowboard.
The equipment ensures complete maintenance of skis and snowboards in high quality and efficiency.
The company offers further equipment and accessory for running a SKI service where the design of our machines is not necessary.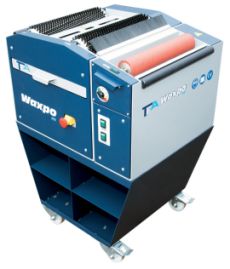 The T.F.A. alfa s.r.o. Company is the direct manufacturer and seller. It offers the following:
An interesting price, thus quick returnin ofvestment
Qualified and quick guarantee and post-guarantee customer service
Easy maintenance
Easy handling
Very interesting prices of spare parts
Directly from the produce
Small built-up area w54 x l66 x h93 (98) cm
Your comments will be considered during innovations
Basic design
Waxing of ski and snowboard bases in the widths up to 300 mm with manual feed
Scrubbing of ski and snowboard bases in full widths with manual feed, which acknowledges the structure in full extent
Buffing of ski and snowboard bases in full widths with manual feed, which acknowledges the structure in full extent
Benefits of the machine
Complete treatment of skis and snowboards with steady wax application
High efficiency
Time of heat at 110 °C within 10 minutes.
Small built-up area w54 x l66 x h93 (98) cm
Easy maintenance
Easy handling
Adjustable height
Economic operation
Easy availability of spare parts
Quick return of investment
Potential financial leasing
Technical specifications
Waxing roller – working width 350 mm
Scrubbing brush - working width 350 mm
Buffing brush – width 350 mm
Heating units – 1500 W
© 2010 T.F.A. alfa s.r.o. | All rights reserved